Quantum-based accelerometer can locate objects without GPS
GPS is such an integral part of modern technology, from portable GPS locators to in-car navigation to drones, that it's hard to imagine life without it. However, there are a number of situations where GPS is not available, due to factors like tall buildings which block the satellite signals that GPS relies on. In other cases, GPS signals can be deliberately blocked or jammed, preventing it from working correctly.
An alternative form of navigation is required for everything from navigating large vehicles to searching for dark matter in the far flung corners of space. Now, researchers at Imperial College London have created a quantum "compass" that allows navigation without reliance on satellites. The instrument, technically called a "standalone quantum accelerometer," is small enough to be transportable and was shown off recently at the National Quantum Technologies Showcase.
An accelerometer is a tool used to measure the changes in an object's velocity over time, and is a common piece of technology that you likely have embedded in your phone. With information about the original position of an object and information about its velocity, location can be determined. However, the problem with basic accelerometers is that their accuracy becomes poor over time without an external reference to recalibrate them.
This means they are not useful for jobs where exact location specificity is required such as navigation. The newly developed quantum accelerometer, on the other hand, has a very high level of accuracy. It achieves this by measuring the movements of supercool atoms, which are cooled to such a degree that they display quantum behavior: they are both particles and waves.
The wave properties of the atoms are effected by acceleration, so the scientists examine the movements of the atoms by creating an atom interferometer — a tool which measures the displacement of waves.
This means that the accelerometer can measure movement through space in a highly accurate way.
[embedded content]
The device is still too large to fit into a compact space, but it is appropriate for use on ships and trains which need to be precisely located when GPS may not be available.
Its large size is due to the powerful lasers that are required to get the atoms cold enough for the accelerometer to work.
Editors' Recommendations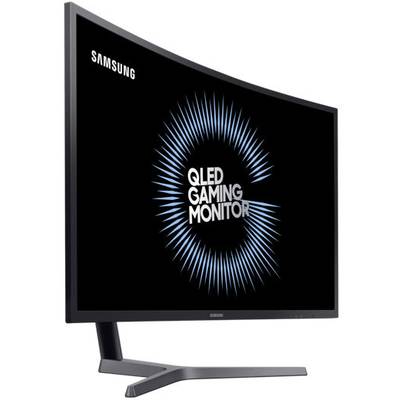 The reality in impressive detailsEnrich your gaming PC to our ultimate visual gaming experience - the world's first QLED Gaming monitor, an innovative mix of HDR and Samsung's new Metal Quantum Dot-Technologie. Impressive colorsQuantum Dot Color vibrationsThrough the Quantum Dot-Technologie has Samsung's curved Gaming monitor via approx.
125% RGB color output.
The colors are becoming more varied, rich, clear and closer to reality than ever with a Samsung monitor before, to give you a games experience to deliver, which is almost real feeling.
Deep blacks, bright whiteHigh Dynamic RangeThe CHG 70 QLED Gaming monitor is the first of its kind, with the support of HDR and a incredibly large range of brightness levels. It renders darker areas incredibly dark and bright areas incredibly bright, so images with high detail, just as it was intended by the game developers.
Razor-sharp and super-fastA response time of 1 ms (MPRT) By a mixture of the progressive "Motion Blur-Reduktions Technology" with the VA-panel, which is technically up-to-date, Samsung this curved monitor with a super fast 1ms response time) created MPRT (motion picture. In this way, you can experience an impressive games performance over the entire screen.
Overwhelming details from a great viewWQHD resolutionWith a 1.
7-times higher pixel density than Full HD, the CHG 70 game scenes and characters in enchanting details. In addition, you get a broad view of the battlefield; so you can connect your enemy, no matter from which corner he crept determined to discover.
Bent to the spell to pull1800 R-curvatureDeveloped to your daily gaming needs to breast-feed. The CHG 70 has a 1800 R-curvature, which gives you the feeling, to be drawn in the game, just like with a film in the cinema.
For an uninterrupted gaming experienceImage refresh rate of 144 HzThe amazingly fast image refresh rate of 144 Hz compared to panels with 120 Hz image delays and motion blur when playing video games to give you a smooth gaming experience. The user-friendly setting of 60 Hz/120 Hz allows you to optimize your screen performance directly on the screen, without each time the menu visit. Light for your games experienceArena LightingThe Arena lighting function of the CHG 70, mounted on the back of the monitor, the gaming thrill.
It is during your games session a bit louder, the lights briefly shine brighter and reinforce the moments of highest intensity.
You can feel an impressive gaming experienceOSD DashboardWith Samsung's OSD dashboard for gamers, you now have your most important game settings in the view. You can even use keyboard shortcuts, the settings you wish to adjust. Align the Good Design Award Winner and place immediately to play. Direct hit for every game genreSeveral game modesThe game display modes of the CHG 70 Series fit instantly black gamma levels, contrast ratios, sharpness and color value settings at the different game genres - FPS, RTS, RPG or aos.
The displays were developed in collaboration with the Samsung Galaxy Team, the semi-final winners of the LOL Championship 2016. Control the game through bundled luminosity.
3000:1 contrast ratioSamsung's advanced VA panel technology enables a low light escape over the entire screen.
In addition, it provides a contrast ratio of 3000:1 and ensures the power peak of the market.
The contrast ratio ensures deep blacks and bright white, even in the darkest and lightest scenes.
Black EqualizerThe 20-level Black Equalizer of the CHG 70 adjusts the brightness in dark areas and your needs, so that you can discover any enemy - even in the darkest angles of your game world. Precise, clear positioningDual hinge stand
-
More Info - EAN: 8806088693620
Often seen as a pricey collector's item, we now offer this special 'Stellar' geranium at great value as a seed item.
The colours are so vivid they almost glow.
Height 40cm (16in).
-
More Info
Quantum of Solace DVD.
Previously owned and sold in a perfect playing condition.
All our DVDs are covered by our quality full money-back guarantee. With free UK delivery within 3-5 working days. Media products will be dispatched with all original covers, artwork, booklets and other inserts which were supplied with the items when we purchased them ourselves.
Daniel Craig returns as James Bond in the 22nd instalment of the 007 franchise.
After being betrayed by Vesper in Casino Royale, Bond (Craig) turns his sights on those who controlled her. Interrogating Mr White (Jesper Christensen), Bond discovers that the shadowy organisation responsible for blackmailing Vesper is a lot more powerful and dangerous than he ever imagined. Tracing a link to Hawaii, Bond soon crosses paths with Ukranian beauty Camille (Olga Kurylenko) who leads him to megalomaniacal businessman Dominic Greene (Mathieu Amalric), head of the organisation known simply as Quantum. Wishing to control one of the world's natural resources, Greene's organisation has a finger in every government agency worldwide, and it falls to Bond to keep one step ahead of his friends, and enemies, to stop Greene holding the world to ransom.
-
More Info
Stay energised with Sure Men Quantum Dry Antiperspirant Deodorant. It helps defend against sweat and odour for up to 48 hours with an invigorating scent.
-
More Info - EAN: 50096718