Best Smart Speaker Deals December 2018
The smart speakers on sale today have moved beyond first-generation products, so now's the time to dip your toes into the water if you've resisted so far. And with plenty of deals around you won't need to pay full price. Google and Amazon lead the way in the smart speaker market with several different iteration of Google Home and Amazon Echo devices available to buy.
They are often discounted, so we look out here for the best ones.
Best Smart Speaker Deals

See some of the best smart speaker deals available below. We are continuously updating this list.
Best smart speaker discounts: What to look for

The first thing to decide is which assistant you want. There are three: Amazon's Alexa, Google's Assistant and Apple's Siri.
The latter is available only in Apple's HomePod, so this at least makes the choice of speakers easy since there's just one model.
HomePod discounts are hard to find, with most retailers offering only GBP20 off the usual GBP319 price. Choosing between the assistants isn't simple, but it will largely come down to the hardware you have already and whether it's compatible with each assistant. You'd only go for a HomePod if you have an iPhone or iPad already as it won't work with Android.
Similarly if you already have smart light bulbs and smart switches, it makes sense to invest in a smart speaker that allows you to control them with your voice, so check which assistant they work with before buying a speaker.
If you predominantly live in Google's world and subscribe to Google Music, it makes sense to go with Google Assistant. Conversely, if you subscribe to Amazon Prime and / or Amazon Music Unlimited, it makes more sense to go with Alexa.
Alexa vs Google Assistant

In terms of Alexa vs Google Assistant, both evolve constantly so it can be difficult to make a decision based on their capabilities today. However, they are both as good (and bad) as each other overall.
They are not truly intelligent and you still have to phrase your command or question in the right way for them to understand what you mean. There's a broad choice of speakers for Alexa and Google Assistant ranging in price and sound quality from very affordable to very expensive. It may be tempting to buy an older model, but do your homework first and make sure you won't regret it.
For example, some older Amazon Echos aren't compatible with the new subwoofer (or won't allow you to create a stereo pair).
Inputs and outputs

Most speakers are designed to be standalone gadgets which run off mains power. You can generally pair them to your phone or tablet via Bluetooth and stream music from those devices, but if you want to hook up your own speakers, be sure to pick a model with a 3.5mm output. And if you want to play music from a device that doesn't have Bluetooth, make sure you get one with a 3.5mm aux input.
Some have no audio inputs or outputs other than Bluetooth.
Where to find smart speaker offers

You'll find savings on Amazon Echo, Google Home and other speakers from plenty of different retailers, especially towards the end of the year with Black Friday and the pre-Christmas season.
We recommend comparing the price of a model you like against at least two to three other retailers and of course against Amazon if you haven't done this already. Amazon is one of the best places to look first, especially if you want an Echo. Amazon sells 'Certified Refurbished' models which look like new and come with a one-year warranty so are great deals when you find them.
You can also find Amazon Deal of the Day, which are discounts offered for a limited time (just few hours typically), or until stocks runs out.
If you're not a Prime member and never have been, you can sign up for Amazon's 30 day free trial of Prime, which will not only get you access to Lightning deals 30 minutes earlier than non-Prime members, but will also get you free next-day delivery.
Here's everything you need to know about Amazon Prime including details on price, benefits and the free trial. Prime, for instance, also includes Amazon Video, which you can access through most smart TVs, and Prime Music which lets you stream 2 million songs.
With even more selection, Prime Music Unlimited (Amazon's Spotify equivalent), currently has a Black Friday introductory offer, where you can get 3 months of service for GBP0.99/£0.99. Otherwise, it's typically GBP9.99/£9.99 (or GBP7.99 if you're a Prime member in the UK). Get this deal here.
There are other retailers to check in the UK, such as Argos, AO, Currys and Very It's always worth keeping John Lewis in mind too – the company's price-match policies mean you'll find some of the best deals as well as getting better customer service and, often, longer warranty.
Best Smart Speaker Cyber Monday Deals

1.

Amazon Echo Dot (3rd Gen)


From: Amazon

Was: GBP49.99

Now: GBP29.99 (GBP20 off)

View Deal

This is the cheapest price we've seen so far for Amazon's new Echo Dot smart speaker. Plus, get an Amazon Smart Plug for just GBP9.99 when you buy any Echo device. Note that it is now out of stock.

You can still order one at the lower price, but it will not be delivered until late January.
2.

Google Home Mini

From: Currys PC World
Was: GBP49
Now: GBP29 (GBP20 off)
View Deal
Currys is selling the Google Home Mini for GBP29.
This is the cheapest we've seen Google's new smart speaker design since it launched earlier this year.
Read our Google Home Mini review here.
3.

Google Home

From: Argos
Was: GBP129
Now: GBP79 (GBP50 off)
View Deal
4.

Google Home Mini with Philips Hue Starter Kit Bundle

From: Currys PC World
Was: GBP164.99
Now: GBP79.99 (GBP85 off)
View Deal
Save big when you buy this bundle from Currys PC World, which includes Google's new Home Mini and the Philips Hue White and Colour Ambiance Smart Bulb Starter Kit.
5.

LG ThinQ WK7

From: Currys PC World
Was: GBP199.99
Now: GBP99 (50% off)
View Deal
An excellent half price deal on this Google Assistant smart speaker from LG
6.

Ultimate Ears Blast Bluetooth Speaker with Amazon Alexa Voice Control

From: Amazon
Was: GBP199.99
Now: GBP129 (GBP70 off)
View Deal
This deal also gets you a 60-day free trial of Audible.
7.

Eufy Genie

From: Tech Advisor
Was: GBP39.99
Now: GBP19.99 (GBP20 off)
View Deal
With Alexa built in, you can use this inexpensive Echo Dot alternative to control smart lights, listen to music and a whole lot more.
Best day 2018 wedding decoration - More Info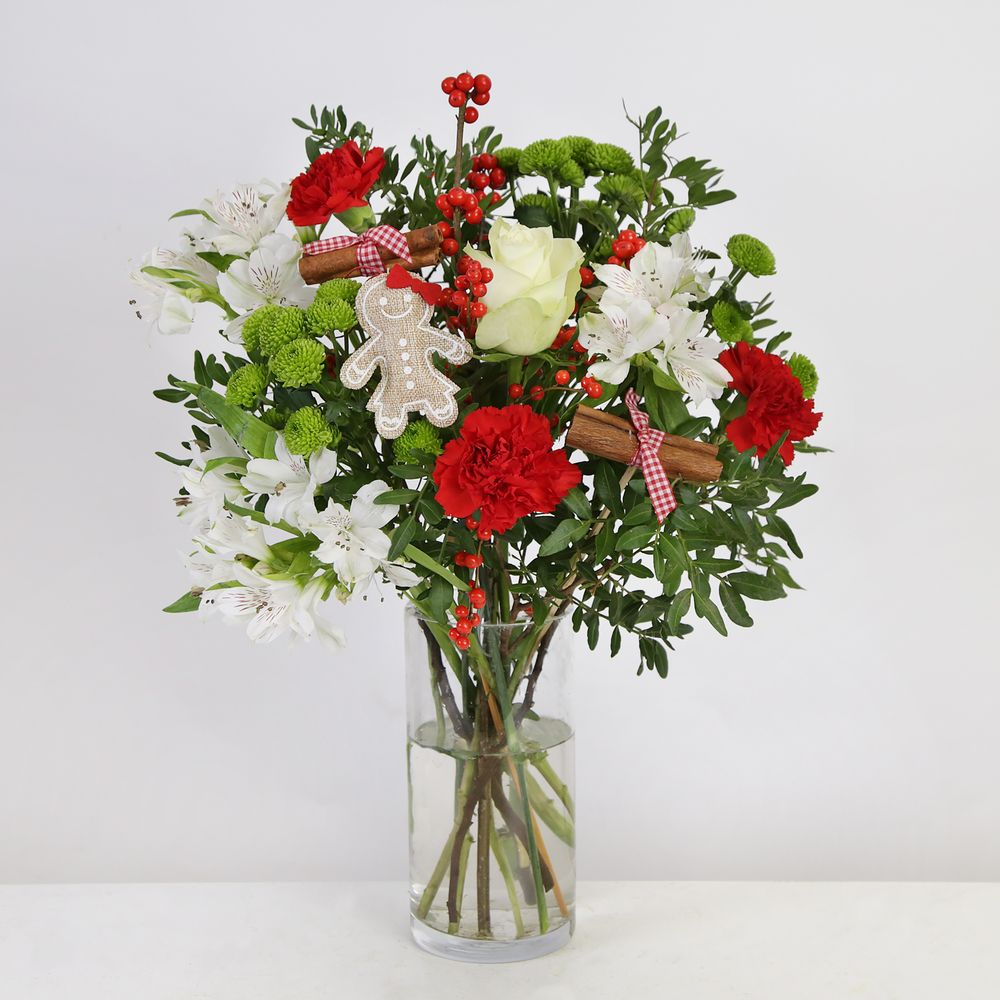 Traditional seasonal colours are displayed in this arrangement provided by the stunning red-berried ilex, white rose and alstroemeria and green chrysanthemums - finished with 2 bundles of cinnamon sticks and a Gingerbread Man Christmas tree decoration! The perfect option for spreading a little festive cheer! Please note the vase is not included and the bouquet displayed is the classic size of this bouquet.This bouquet contains: 1 Ilex 1 White Rose 3 Green Santini 3 White Alstroemeria 3 Red Carnations 2 Pistache 2 Cinnamon Sticks 1 Fabric Gingerbread Christmas Tree Decoration Hand-tied by our florists. Our flowers may arrive unopened but the buds will come into bloom within a day or two. In the rare event that a substitution is necessary through flower supply difficulties, we may substitute with flowers of similar or superior style, quality and value. - More Info
2018 Wooden Mini Portable Bluetooth Speaker Outdoor Wireless Stereo Subwoofer For Tablets Smart Phones TF Card AUX Wooden/Speaker - More Info