Get free Amazon Prime with BT's superfast fibre broadband
For the next two weeks, BT is offering free Amazon Prime with all sales of its fibre broadband, giving you something to stream and a way to stream it. Two birds. One deal.
BT offers its fibre-optic broadband service – called Superfast Fibre – under a handful of different packages. The cheapest is called Superfast Fibre Essential, which costs GBP29.99 per month – jumping to GBP37.99 after 18 months – and promises 36Mbits/sec, with unlimited monthly usage and UK weekend calls. The two other main options are Superfast Fibre, which comes with average download speeds of 50Mbits/sec, and Superfast Fibre 2, which promises 67Mbits/sec.
If you're considering the former, it will set you back GBP35.99 per month – jumping up to GBP43.99 after 18 months. The latter costs GBP45.99 a month for 18 months, rising to GBP53.99 a month. Both of these also have a setup cost of GBP10.
As our review of BT's broadband services explains: "If you want more extras, you could also look at BT's Superfast Fibre Plus package, which gets you a 67Mbits/sec internet service, plus double data on any BT Mobile phones registered to your account. You also get BT's "keep connected guarantee", which lets you use 4G data for free in the event that your main broadband connection goes out." That's what BT has on the table.
A year of Amazon Prime, meanwhile, will normally cost GBP79. As well as access to the company's TV and movie streaming service, you'll get free next-day delivery on things you buy from Amazon. You'll also have access to Prime Music, which encompasses over two million songs with ad-free listening, unlimited skips and downloading abilities for offline listening.
The deal will last for the next fortnight.
Head to BT's website for more information.
Comes with free Weekend calls. Broadband with up to 76Mb/s (Unlimited cap). Also includes: BT Sport Pack for FREE. BT Sport Pack is best with BT TV and it's the only way to get it FREE. Get brand new AMC, from the US network behind the smash-hit dramas Mad Men and Breaking Bad, and the highly anticipated Fear the Walking Dead.. GBP18.99/mth line rental. 12 month contract - More Info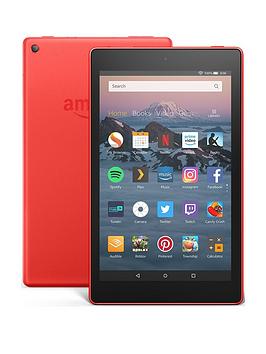 The All-New Amazon Fire HD 8 Tablet gives you incredible value for money. Take your pick from e-books, movies, TV and the internet through the enhanced 8 inch IPS display (1280 x 800). What's more, with easy access to millions of films, TV shows, songs, books and Android apps and games, you'll never be stuck for something to enjoy. WORKS WITH ALEXA The All-New Fire HD 8 also comes with built-in personal assistant Alexa, who will respond to your voice commands to launch apps, check the weather, provide the latest news headlines and sports results, play music from Amazon's streaming music service, control smart home devices, order products and more. When connected to WiFi, simply press the home button for one second and then ask. Alexa Hands-Free will respond to you and even show you visual responses to certain questions. LONG BATTERY LIFE With a durable design and 10-hour battery life, you can take your Fire HD 8 anywhere. Powered by four high-performance 1.3GHz cores that run simultaneously and built on the latest Fire operating software, you can enjoy all your favourite movies and TV shows on Amazon Video, Netflix, BBC iPlayer, ITV Hub and more. You get 16Gb of built-in storage, with the option to expand this by up to 400Gb using a microSD card, so you can carry around lots of entertainment for when you're out of WiFi range. Plus, enjoy free unlimited cloud storage for all your Amazon content and photos taken with your Fire tablet. UPGRADED CAMERAS The Fire HD 8 also features a 2 megapixel front-facing camera and a 2 MP rear-facing camera for taking photos or shooting 720p HD video. Exclusive to Prime members, download thousands of Prime Video movies and TV episodes. Watch downloaded videos anywhere – on a plane, on holiday, in the car, or wherever you don't have a wireless connection. Prime Video offers offline viewing at no additional cost. - More Info - EAN: 841667164298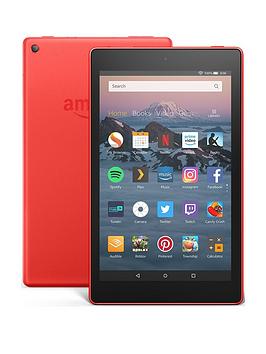 The All-New Amazon Fire HD 8 Tablet gives you incredible value for money. Take your pick from e-books, movies, TV and the internet through the enhanced 8 inch IPS display (1280 x 800). What's more, with easy access to millions of films, TV shows, songs, books and Android apps and games, you'll never be stuck for something to enjoy. WORKS WITH ALEXA The All-New Fire HD 8 also comes with built-in personal assistant Alexa, who will respond to your voice commands to launch apps, check the weather, provide the latest news headlines and sports results, play music from Amazon's streaming music service, control smart home devices, order products and more. When connected to WiFi, simply press the home button for one second and then ask. Alexa Hands-Free will respond to you and even show you visual responses to certain questions. LONG BATTERY LIFE With a durable design and 10-hour battery life, you can take your Fire HD 8 anywhere. Powered by four high-performance 1.3GHz cores that run simultaneously and built on the latest Fire operating software, you can enjoy all your favourite movies and TV shows on Amazon Video, Netflix, BBC iPlayer, ITV Hub and more. You get 16Gb of built-in storage, with the option to expand this by up to 400Gb using a microSD card, so you can carry around lots of entertainment for when you're out of WiFi range. Plus, enjoy free unlimited cloud storage for all your Amazon content and photos taken with your Fire tablet. UPGRADED CAMERAS The Fire HD 8 also features a 2 megapixel front-facing camera and a 2 MP rear-facing camera for taking photos or shooting 720p HD video. Exclusive to Prime members, download thousands of Prime Video movies and TV episodes. Watch downloaded videos anywhere – on a plane, on holiday, in the car, or wherever you don't have a wireless connection. Prime Video offers offline viewing at no additional cost. - More Info - EAN: 841667144146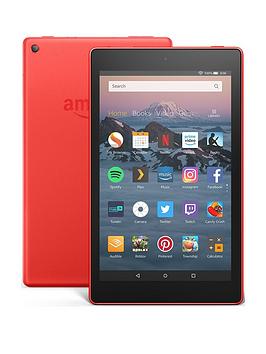 The All-New Amazon Fire HD 8 Tablet gives you incredible value for money. Take your pick from e-books, movies, TV and the internet through the enhanced 8 inch IPS display (1280 x 800). What's more, with easy access to millions of films, TV shows, songs, books and Android apps and games, you'll never be stuck for something to enjoy. WORKS WITH ALEXA The All-New Fire HD 8 also comes with built-in personal assistant Alexa, who will respond to your voice commands to launch apps, check the weather, provide the latest news headlines and sports results, play music from Amazon's streaming music service, control smart home devices, order products and more. When connected to WiFi, simply press the home button for one second and then ask. Alexa Hands-Free will respond to you and even show you visual responses to certain questions. LONG BATTERY LIFE With a durable design and 10-hour battery life, you can take your Fire HD 8 anywhere. Powered by four high-performance 1.3GHz cores that run simultaneously and built on the latest Fire operating software, you can enjoy all your favourite movies and TV shows on Amazon Video, Netflix, BBC iPlayer, ITV Hub and more. You get 16Gb of built-in storage, with the option to expand this by up to 400Gb using a microSD card, so you can carry around lots of entertainment for when you're out of WiFi range. Plus, enjoy free unlimited cloud storage for all your Amazon content and photos taken with your Fire tablet. UPGRADED CAMERAS The Fire HD 8 also features a 2 megapixel front-facing camera and a 2 MP rear-facing camera for taking photos or shooting 720p HD video. Exclusive to Prime members, download thousands of Prime Video movies and TV episodes. Watch downloaded videos anywhere – on a plane, on holiday, in the car, or wherever you don't have a wireless connection. Prime Video offers offline viewing at no additional cost. - More Info - EAN: 841667160948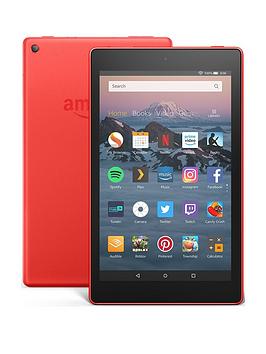 The All-New Amazon Fire HD 8 Tablet gives you incredible value for money. Take your pick from e-books, movies, TV and the internet through the enhanced 8 inch IPS display (1280 x 800). What's more, with easy access to millions of films, TV shows, songs, books and Android apps and games, you'll never be stuck for something to enjoy. WORKS WITH ALEXA The All-New Fire HD 8 also comes with built-in personal assistant Alexa, who will respond to your voice commands to launch apps, check the weather, provide the latest news headlines and sports results, play music from Amazon's streaming music service, control smart home devices, order products and more. When connected to WiFi, simply press the home button for one second and then ask. Alexa Hands-Free will respond to you and even show you visual responses to certain questions. LONG BATTERY LIFE With a durable design and 10-hour battery life, you can take your Fire HD 8 anywhere. Powered by four high-performance 1.3GHz cores that run simultaneously and built on the latest Fire operating software, you can enjoy all your favourite movies and TV shows on Amazon Video, Netflix, BBC iPlayer, ITV Hub and more. You get 16Gb of built-in storage, with the option to expand this by up to 400Gb using a microSD card, so you can carry around lots of entertainment for when you're out of WiFi range. Plus, enjoy free unlimited cloud storage for all your Amazon content and photos taken with your Fire tablet. UPGRADED CAMERAS The Fire HD 8 also features a 2 megapixel front-facing camera and a 2 MP rear-facing camera for taking photos or shooting 720p HD video. Exclusive to Prime members, download thousands of Prime Video movies and TV episodes. Watch downloaded videos anywhere – on a plane, on holiday, in the car, or wherever you don't have a wireless connection. Prime Video offers offline viewing at no additional cost. - More Info - EAN: 841667164298