Oculus Quest vs Oculus Go vs Samsung Gear VR vs Oculus Rift: What's the difference?
There are now a few different choices for those looking to get into virtual reality with a number of VR headsets available at varying prices. At one end of the spectrum that are headsets that use compatible mobile devices for their VR content while at the other end sits the high-end devices that require a powerful gaming computer to run. Oculus offer several different VR headsets including the Oculus Go, the Oculus powered Samsung Gear VR, the new Oculus Quest and the Oculus Rift.
The Oculus Rift is currently the company's flagship device that needs a PC to run, while the other devices offer a wire-free VR experience. But what's the difference between these devices? We've got all the info you need to know.
---
---
Pocket-lint
Design features

Samsung Gear VR: 207mm x 120mm x 99 mm weighing 345g, 64GB onboard storage and MicroSD slot
Oculus Go: 190mm x 105mm x 115mm weighing 467g, 32GB or 64GB storage
Oculus Quest: details yet to be announced
Oculus Rift: 391mm x 165mm x 307mm weighing 460g
Each of these virtual reality headsets offers slightly different design features that make them stand apart.
As such, they all offer a slightly different VR experience and which you choose will depend on the results you're after. The Samsung Gear VR is a headset that's primarily powered by a smartphone. Like Google Cardboard and Google Daydream, the Samsung Gear VR is an entry-level virtual reality device that requires a phone in order to work.
This headset works with a limited number of devices including the Samsung Galaxy S9, S9+, Note 8, S8, S8+, S7, S7 edge, Note5, S6 edge+, S6, S6 edge, A8 and A8+. Plugging one of these phones into the device gives access to a range of Gear VR games and apps that currently includes over 1,000 experiences. Since the Samsung Gear VR is phone powered it works on both Wi-Fi and cellular networks.
The Gear VR includes 64GB of onboard storage and a MicroSD slot for downloading even more. Oculus Go is a step up from the Gear VR – offering a standalone virtual reality experience that's wireless and doesn't require a smartphone in order to work (apart from for initial setup). This headset works over Wi-Fi and is powered by Android internals and a Qualcomm Snapdragon 821 processor.
The Oculus Go is designed to work with Samsung Gear VR compatible apps giving users access to the same 1,000 experiences as on that device as well as over 100 apps specifically designed for the standalone headset. Both Oculus Go and Samsung Gear VR come with a single controller for in-game control. The Oculus Quest is the newest headset from the company and sits somewhere between the Oculus Go and the Oculus Rift.
Like the Oculus Go, the Oculus Quest is a standalone virtual reality headset that doesn't require a PC to run, instead, it runs on the power of a Qualcomm Snapdragon 835 mobile chip set. It was originally announced at the Oculus Connect event in 2018 and previewed again at CES 2019. At that time the company revealed it will work without a PC and can be set up using the Oculus mobile app.
This headset won't support quite as many games at launch though – just 50 titles have been confirmed. The games you will be able to play include gems like Superhot VR – a smashing VR romp we've played on HTC Vive and Oculus Rift. Other titles include Project Tennis Scramble, Robo Recall, The Climb, and Moss.
The Oculus Quest features a similar design aesthetic to the other headsets, but this standalone device does come with two controllers (compared to the single controller with the Gear VR and Oculus Go). They're also different in that the design of these controllers allows them to be more easily tracked by the headset with loops on the top for movement monitoring. This headset has four sensors built into it to detect movement and track the controllers – there are no external sensors like with the Oculus Rift or HTC Vive.
Unlike the Oculus Go, the Oculus Quest's design features a USB-C charging port which should mean faster charging. There's no official word on battery life currently, but the company has said it will be similar to the two or three hours you can get out of the Oculus Go. The Oculus Rift is currently the flagship VR device offered by Oculus.
This is a virtual reality headset that requires a gaming PC in order to run. It's the most expensive headset, but also offers the best VR experience with access to a mass of gaming titles and apps. With room-scale tracking it's also the most immersive VR headset on this list and allows freedom to move around in the virtual world.
It is wired though and needs to be constantly connected to a PC in order to run. Minimum specifications for the accompanying computer are:
CPU – Intel i3-6100/AMD Ryzen 3 1200, FX4350 or greater
Graphics Card – NVIDIA GTX 1050Ti/AMD Radeon RX 470 or greater
Memory – 8 GB+ RAM
OS – Windows 8.1 or newer
The Oculus Rift comes with two touch controllers that include traditional action buttons, thumb-sticks and analogue triggers. It's also compatible with gamepads including Xbox One controllers – allowing a variety of control options for VR gaming.
Display resolution and specifications

Samsung Gear VR: Resolution depends on device, 60Hz refresh rate, 101-degree field of view
Oculus Go: 5.5-inch display, 538ppi, 2560 x 1440 WQHD resolution, 72Hz refresh rate
Oculus Quest: 1,600 x 1,440 resolution per eye
Oculus Rift: 2160 x 1200 resolution, 90 Hz refresh rate, 110-degree field of view
Samsung Gear VR relies on a smartphone to run, meaning it needs the processing power of that phone to deliver the VR experience.
This headset delivers different resolutions depending on your device, but is theoretically capable of at least 1280 x 1440 per eye with a 60Hz refresh rate and a 101-degree field of view. Oculus Go is able to be slightly more powerful thanks to having its processing power integrated within the device itself. This means it can deliver better visuals with a 2560 x 1440 WQHD resolution and a maximum 72Hz refresh rate.
This headset has upgraded lenses and a strong focus on comfort enabling users to play for hours. The Oculus Quest meanwhile, features a resolution of 1,600 x 1,440 per eye – a step up from the Oculus Go. With more power under the hood, it should also deliver better results and a more immersive VR experience.
We thought the graphics were crisp and impressive when we tested it at CES, but will need some proper testing time to compare fully. There's no official word on the field of view or refresh rate currently. It is worth noting that the Oculus Quest is large enough for glasses wears to use comfortably though.
The Oculus Rift, meanwhile, works with an attached gaming PC to deliver a 2160 x 1200 resolution with 90 Hz refresh rate and a 110-degree field of view. This headset is also powered directly, so can be used for longer than the other headsets which are battery powered.
Audio quality and features

Samsung Gear VR: Audio via compatible smartphone
Oculus Go: Integrated speakers with spatial audio delivered through head strap and 3.5mm headphone jack and built-in microphone
Oculus Quest: Integrated speakers with spatial audio and 3.5mm auxiliary jack
Oculus Rift: Integrated 360-degree spatial audio headphones and built-in microphone
The Samsung Gear VR's audio is powered by the smartphone that's attached to it, the volume of which can be adjusted by the wheel on the headset or dial on the controller. The standalone Oculus Go uses an integrated speaker system which delivers spatial sound through the head straps.
Alternatively, there is a 3.5mm jack if you want to use your own headphones. A built-in mic also allows users to chat with other VR users in multi-user experiences such as Oculus Rooms. The Oculus Quest features a similar built-in spatial audio system to the Oculus Go – negating the need for headphones unless you want a more personal experience.
If you do prefer to plug in, you'll be happy to hear there's also a 3.5mm jack. The Oculus Rift offers 360-degree spatial audio via integrated headphones and also has a built-in microphone for easy communication while gaming.
Tracking compatibility and upgrades

Samsung Gear VR: Three degrees of freedom tracking via 3DoF Gyroscope, Accelerometer and Magnetometer
Oculus Go: Three degrees of freedom tracking via 3DoF Gyroscope, Accelerometer and Magnetometer
Oculus Quest: Six degrees of freedom movement tracking via built-in internal sensors
Oculus Rift: Six degrees of freedom movement tracking including room-scale capabilities via IR LED tracking sensors
Both the Samsung Gear VR and Oculus Go VR headsets use Gyroscope, Accelerometer and Magnetometer tracking systems to deliver three degrees of freedom tracking. In practice, this means that these devices are capable of tracking the rotation of your head and movement of the accompanying remote control, but not full body movement.
As we've mentioned, the Oculus Quest is a nice middle ground in terms of VR experiences. This headset has upgraded sensors (compared to the Oculus Go) which means it can offer six degrees of freedom movement tracking. Oculus Quest also uses a technology known as Oculus Insight which uses the headset's four tracking sensors to not only monitor your position in real-time but also to map the room and detect any obstacles that might get in your way.
This means you'll be able to move around freely while using this VR headset. Not only without the impairment of cables, but also without the restrictive problems of lesser headsets. A guardian system will also ensure you don't fall over the sofa when doing so.
The Oculus Quest can track movement in the VR play space that includes walking around the room, crouching and even jumping. This should allow some superb gaming fun in a variety of games. The Oculus Quest is also apparently capable of tracking large play spaces up to 4,000 square feet in size.
The Oculus Rift meanwhile offers more accurate tracking. Using IR LED tracking sensors, the Rift is compatible with room-scale VR tracking meaning you can walk freely through the virtual world in an 8 x 8 foot space. Seated and standing play is also possible with this device.
This device has the most accurate tracking thanks to the external IR sensors. It too, has six degrees of freedom movement tracking allowing players to fully immerse themselves in gameplay while being accurately tracked.
Conclusion

If you're looking for the very best VR experience and considering these devices then the Oculus Rift is the device you should turn to. It does come with the biggest price tag and requires a powerful gaming PC for the best results, but also delivers a superior visual experience and accurate room-scale tracking too.
If you already own a compatible Samsung phone, then the Gear VR is a good way to get into VR and it's the most affordable headset on this list. It won't deliver the best results, but it does give easy access to over 1,000 games and experiences as well as the ability to watch video content on a big private VR screen. The Oculus Go is possibly the most accessible device on this list.
It's a standalone device that works on its own, so offers easy access to VR for anyone and everyone. There's plenty of content available and its designed to be easy-to-use and easy to share with friends too. The Oculus Go is also a great way for iPhone users to get into VR where most mobile powered headsets require an Android phone.
The Oculus Go offers a noticeable visual improvement and other enhancements compared to the Gear VR and so might offer a nice upgrade for current owners. The Oculus Quest is a perfect solution for those who want to get into "proper" VR gaming without paying out the big bucks for a high-end system and the powerful gaming machine to power it. Superior tracking and wireless joy may appeal to many.
Pricing

---
---
Samsung Gear VR is currently available for around GBP119 on Amazon.co.uk and £89.95 on Amazon.com.
Oculus Go is available for GBP199/£199/EUR219 for the 32GB model and GBP249/£249/EUR269 for the 64GB version from Oculus.com.
Oculus Rift is currently available for GBP399 on Amazon.co.uk and £399 on Amazon.com.
Oculus Quest is expected to be released Spring 2019 with prices starting at £399.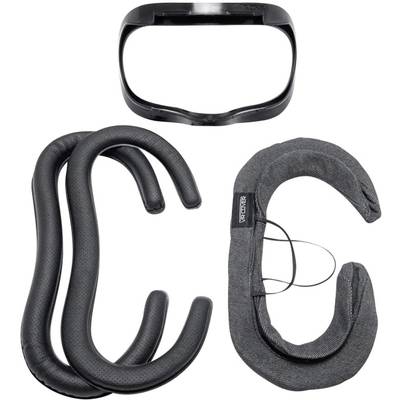 Alternative" Facial Interface" for oculus = Rift VR glasses, with 2 x more comfortable replacement insert, standard set with practical VR-cover fabric cover.This text is machine translated. - More Info - EAN: 8859392700225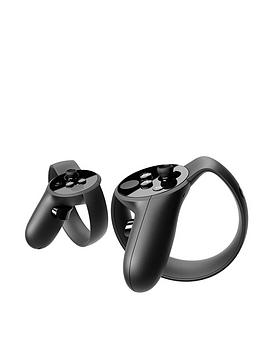 The Oculus Rift Touch Controllers enhance your virtual reality experience. Bring your real hands into virtual environments with this pair of controllers for Oculus Rift. Natural gestures and finger movement create a sense of true hand presence for more realistic, memorable, and tactile VR. Constellation tracking lets you manipulate objects in your virtual environment with extraordinary precision. Explore an expansive list of groundbreaking new Touch experiences on the Oculus Store. This is an Oculus Rift accessory only. Rift headset required and sold separately To check if your Windows PC is compatible, see https://ocul.us/p-compat-tool For full T&Cs, see www.oculus.com/p/legal/terms-of-service/ - More Info - EAN: 0815820020080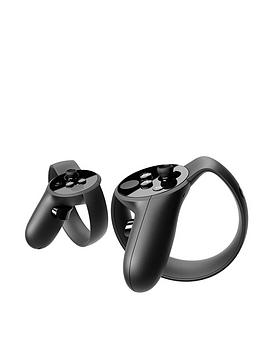 The Oculus Rift Touch Controllers enhance your virtual reality experience. Bring your real hands into virtual environments with this pair of controllers for Oculus Rift. Natural gestures and finger movement create a sense of true hand presence for more realistic, memorable, and tactile VR. Constellation tracking lets you manipulate objects in your virtual environment with extraordinary precision. Explore an expansive list of groundbreaking new Touch experiences on the Oculus Store. This is an Oculus Rift accessory only. Rift headset required and sold separately To check if your Windows PC is compatible, see https://ocul.us/p-compat-tool For full T&Cs, see www.oculus.com/p/legal/terms-of-service/ - More Info - EAN: 0815820020080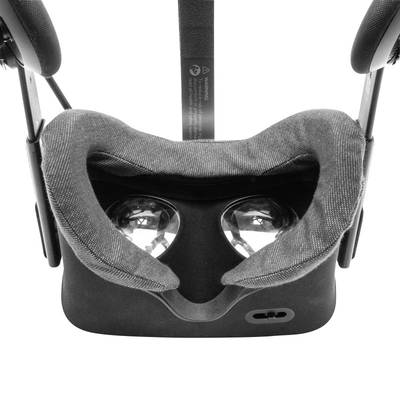 Practical coating for oculus = Rift VR glasses, Set of 2 from comfortable fabric, compatible with the original foam padding, increases comfort and Hygiene (washable).This text is machine translated. - More Info - EAN: 8859392700096
Oculus Rift - More Info