Play Review: The Front Porch takes a realistic look at layers of relationships
When love, one of the universal emotions becomes an inspiration for an artwork, the product gets its universal appeal too. Something similar has been done by young theatre playwright and director Harsh Shodhan in modern Gujarati romantic drama The Front Porch that premiered in the city recently.
Harsh's work, be it Ek Sthayi Musafar or Yuyutsu present the dilemma of parent-child relationships and generation gap. This play is no different with his creation of father-son characters Madhav-Parikshit portrayed by senior actor Ankit Gor and Yash Chandarana
respectively.
The youth-centric plot revolves around a contemporary Gujarati family which is quite 'progressive' in its worldview. While protagonist Madhav is a President-medal awardee retired principal, his Europe-based wife Renu Patel (played by Rupanshi Kashyap) is a Man Booker Prize winner whom he has not seen for several years. The couple that fell in love in JNU, however has a Before Sunrise type of pact – to reunite when they are at the pinnacle of their lives, at the front porch of their home, giving the play its title. The question is can their love survive the test of time?
Ankit is fun to watch in his role of an idealist, Dalit activist and a social rebel who is also an advocate of inter-caste marriages and can't avoid speaking in poetic language in day-to-day conversations leading to hilarious situations. Though a John Lennon fan who loves to savour Mexican rice, the optimistic character of Madhav still prefers that his family eats while seating on the floor cross-legged.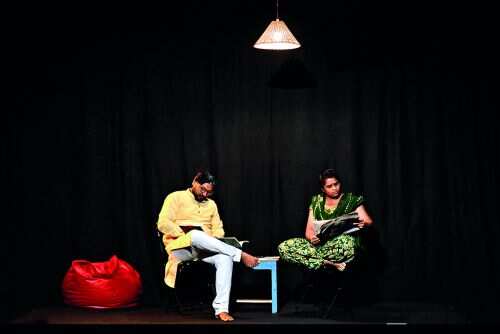 Margi Desai as Malti shines in one of her last scenes in the play where she is ready to pack her bags for the sake of peace in her family. She excels in the art of letting go, while having patience, respect and trust for her near and dear ones. Yash in the role of Parikshit represents a mature, understanding son who has a ritual of playing chess with his dad every Sunday. He is a treat to the eyes in an awkward and comic family dinner scene and the one where he plays Truth and Dare over drinks with Malti.
The only pitfall is that there are too many flashbacks of Yash and his Marwari girlfriend's (Jaini Shah) love story that it interrupts the flow of the play though the script otherwise captures so many nuances that the performance seems natural, effortless and just flows. Most of the scenes unfold in the porch but the set design leaves much room for improvement.
Laced with wit, humour and comedy of errors, coupled with the build up to the climax with good light and sound work and portrayal of conflict, this play is an entertaining watch with a philosophical message. It gives you a different perspective on love, relationships and other's or your partner's perspective.
Dialogues like, " Tamey kai cha piso – khand vari k vager khand vari? K pachi Sunday che to green tea lavu?", " Amna courageous nathi, caring husband ni avashyakta chhe…Courageous ni wife ne to jauhar karvu padyu hatu", "Relationships are for bondage, our nature is to fly" and "Do you know what remains after a large star collapses? It turns into a supernova and then comes the… black hole" keep you hooked to your seat.
Whether you are in a relationship or not, this play is an entertaining watch equally enjoyable with family and friends.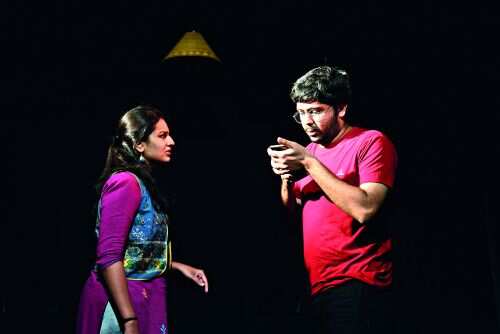 Theatre Review The Front Porch Language – Gujarati
Genre – Romance, Comedy
Director – Harsh Shodhan
Duration – 1 hour 15 minutes
Cast – Ankit Gor, Margi Desai, Yash Chandarana, Jaini Shah, Rupanshi Kashyap
Rating – 4 stars