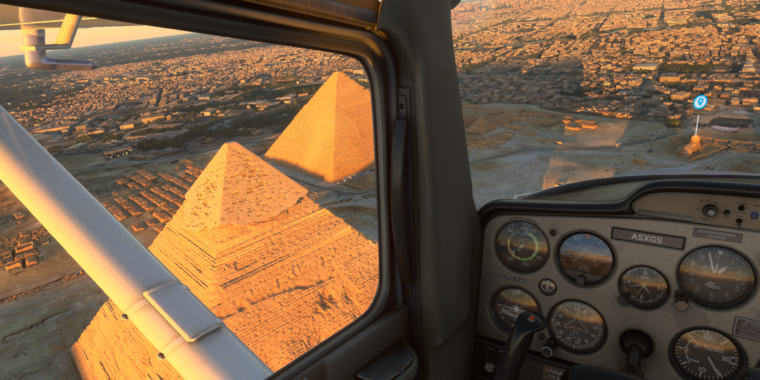 The prettiest Xbox Series X/S game yet, by far
Both consoles can now nearly lock to 30 fps refreshes in most of the environments I've cherry-picked to test, all while pushing a resolution approaching 2160p on Series X and 1080p on Series S. Exact pixel-count measurements of this article's captures point to a full-pixel resolution on both consoles, perhaps aided by a very efficient temporal anti-aliasing (TAA) solution to bring lower pixel counts to a crisper final maximum. The results are jaw-dropping. They include some of the most detail-rich 3D environments I've ever seen in a real-time video game, all humming along with gorgeously lit, particle-filled clouds—and without apparent sacrifices to pixel fidelity or frame rate.
Getting to this impressive result includes a few significant caveats. While these don't necessarily break the game's visual sheen, they do point to Asobo's clever engineering choices.
The most obvious is a rendering issue that emerges nearly every time MSFS console players nudge a manual camera control. If you're viewing your mid-air surroundings within a cockpit, and thus have flight equipment obscuring some of your view of the world below, you might still get a 30 fps refresh when you nudge the camera. Doing the same from an exterior point of view (as triggered by the Xbox gamepad's "options" button), on the other hand, always temporarily drags into 30 fps territory on both Series X/S. Stop changing the camera angle, and you're back to something near 30 fps, even as you steer your plane dramatically. This implies that something in the renderer flips on and off when a manual camera adjustment is engaged (which doesn't happen in the current PC version).
Certain crowded cityscapes, particularly Manhattan, can suffer from this sub-30 fps issue by steering aggressively while in an exterior camera angle. These moments are by no means game-breakers, but they're a reminder that MSFS's massive landscapes can take their toll in select situations.
Upgrades, downgrades compared to PC
Additionally, depending on the locale a player flies over, various graphics sliders appear to be in play to keep MSFS performative on Series X/S. It's hard to estimate exactly what PC-equivalent "preset" the console version of MSFS uses, since some details are slightly lower on console, while others are far superior.
The most impressive upgrade from the PC version is an across-the-board boost to texture and building detail in certain populated cities, as seen above. While virtually flying over my hometown of Seattle at the "high-end" PC setting, I see a pretty massive number of different-looking buildings, albeit not with a ton of differentiating detail save the city's most unique architecture (particularly the Space Needle). Dive to the same spot on the Series X and Series S versions, on the other hand, and it's a different story. This specific boost to city detail may very well find its way to PC presets in the near future, but it's not there yet.
When we take MSFS tests out of the city and into the country, on the other hand, Series X and S are forced to downscale the complexity and texture detail applied to distant, massive landforms, especially mountains and hills. That can be seen in the gallery below, with Series S bringing down its detail further—and additionally pulling back on how many light bounces its particle-filled clouds can parse. That affects the painterly sunset effect that this "landing challenge" preset comes with.
Neither of these comparison galleries does a great job reflecting the level-of-detail (LoD) slider inherent in each version. The PC build, at "top-end" settings, draws more building and landscape detail at a farther distance from the camera than either Xbox Series console. Ultimately, all MSFS versions include some form of object pop-in, since we're still not at the computationally infinite power that's arguably needed to make every house and tree appear from the camera's lens all the way to a virtual world's horizon. (For context on this, fly a jet in Grand Theft Auto V at max visual settings on PC, then examine how the world handles distant elements' pop-in. You'll see that MSFS is far more efficient than an average open world video game.)
Having put the Series X and Series S versions through flights across identical zones, both among Asobo's series of Discovery locales and some randomly picked zones that I've previously tested on PC, I'm confident in saying that Series S ultimately doesn't hold up as a "beautiful anywhere" flight sim the way its Series X sibling does. It's still a performative beast, in terms of offering global, 1080p flight gorgeousness by default. But its handling of city-specific detail, distant geometry, and up-close particle systems, along with its more aggressive LoD slider, are solid proof that Series S costs $200 less for a reason. It's not just a matter of lower resolution to get to "identical" performance.